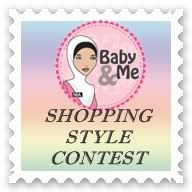 Wanna join, but I'm not sure whether the pic below will qualify, coz there's no pic of me, juz my doters. Hope it will.

Inilah our shopping style @Giant, sampai 2 trolley diperlukan! Kakak
occupied with her loots and adik sleeping peacfully in her carseat
..as we did not want to wake adik...so carseat goes in the trolley! heheh

Nama Anda: Siti Khadijah Asgar
Nama Kanak-Kanak & Umur: Amira Balqis (2 tahun) & Umaira Balqis (4 bulan)
Hubungan dengan Kanak-Kanak: Their Mama..:)
A tip for shopping with babies and toddlers:
One and only...
Extremely important..
Make sure they are comfortable enough!
Enough food, enough sleep/rest, enough 'distractions'/'entertainment' eg. toys..
Discomfort will definitely cause cranky children..
and cranky = tantrums..
tantrums = edgy parents & completely stressful shopping!
Thank you sponsors:
Baby & Me Shopping Style Contest
dianjurkan oleh
Baby & Me
Dengan hadiah-hadiah menarik daripada
3f (Sewfabby)

Gewecun's Closet
BabyIbu Shoppe

Sumijelly.com
Redjambu

Hafiy.com